Anyway you look at it, fashion and film have always been linked. Fashion was always there whenever a character needed a little twitch in its portrayal and film has always generated trends, be it in clothing, hairdos or makeup. It is an inevitable affair that has sparked a lot of comments among movie goers and fashion lovers alike and which continues to do so, to everyone's delight! So it didn't take long until we came up with a Movies for Fashion themed week, here at sunglasscurator.com.
We must admit that this post sparked a whole lot of debates in the sunglasscurator.com office and rightfully so! It is pretty hard to nail top 10 movies for fashion inspiration that would match everybody's tastes. Because think about it: even if you agree to the most inspiring movies, somebody's no.1 could be someone else's no.3 and so on and so forth. So just to clear the skies, we have decided to make a list – in no particular order! – of some of our go to movies when it comes to fashion inspiration. Make sure to let us know if we missed anything in the comments section below, as we intend to work and improve this list, over time. Here is our first batch!
The Great Gatsby – the 1974 adaptation by Francis Ford Copolla of F. Scott Fitzgerald's novel, starring the wonderful Mia Farrow and Robert Redford. The novel itself is an amazing portrayal of the Roaring 20s, but the decors and the costumes really took the story to another level. We love every single outfit, but Daisy Buchanan's dresses had us wanting to live in the 2os! We can't wait for the soon to be released version, but until then, we have this to enchant our eyes.
The Royal Tenenbaums – the 2001 Wes Anderson movie that changed everything! This incredibly beautiful movie, with one of the most amazing of soundtracks, tells the story of a family, with the children, all grown-ups now, are stuck in their teenage years (or whenever it happened that they achieved immense success). One of the great things in the movies is how the director is telling the story through so many mediums. For example, each of the character's style is a sort of uniform that they wear throughout the entire movie, which, of course, has deep roots in the respective kids childhood. Anyway, it's a great movie, great cast, great soundtrack, and always a pleasure to watch.
Bonnie and Clyde, the romanticised version of a couple of very good looking and fashionable burglars from 1967, starring Warren Beatty and Faye Dunaway. The beauty of the actors is backed by their sense of style, which we think is phenomenal! All in all, is really hard not to sympathise with them.
Marie Antoinette, Sofia Copolla's 2006 interpretation of France's iconic but ill-fated queen, Marie Antoinette, starring Kristen Dunst and Jason Schwartzman. Visually, this movie does a great job in portraying the lush opulence that Versailles might have been in Marie Antoinette's time. The entire setting is so fun and pink and girlie and irresponsibly youthful that is impossible not to like.  Prepare to see a great deal of luxury and amazing gowns and puppies! Here's a still from the movie featuring Marie Antoinette, famous for the saying "let them eat cake".
Cat On A Hot Thin Roof, the 1958 classic, after a play by Tennessee Williams, starring Paul Newman and Elizabeth Taylor. I don't know about you, but we like watching this movie, every once in a while. It might be those southern American settings, or Paul Newman's incredibly attractive detachment, or Liz Taylor's beautiful appearance, or that perfect white cocktail dress. Who knows? In any case, this movie deserves a place in our Movie for Fashion Inspiration post.
Atonement, Joe Wright's 2007 adaptation of Ian McEwan's novel, starring Keira Knightley, a gorgeous emerald green dress and James McAvoy. The story is great and we think that the director did a great job in this screen adaptation, but definitely, the most memorable thing about it was the utterly elegant and feminine dress, which was recently voted 'Best Costume of All Time' by Sky Movies and readers of In Style.
Love Story from 1970, starring Ryan McNeal and the beautiful and always stylish Ali McGraw. There's a display of wonderful winter wardrobe in this movie and we want it all! "She exemplified this great American style," recalls Calvin Klein. "In the beginning, there was that rich-hippie period. But it went beyond that, and her style put her among the greats: Katharine Hepburn, Jackie Onassis, C. Z. Guest, Babe Paley."
A Single Man, Tom Ford's beautiful attempt at cinematography, from 2009, starring Colin Firth and Julienne Moore. Well, what could you have expected from a fashion designer of Tom Ford's calibre? We loved how the colour scheme is changing throughout the film to better portray George's feelings. Here's what Tom Ford had to say about this: 'I was lucky enough to have great actors and I tried to create an environment where they could perform to make them feel comfortable, to get the very best that I could get out of them to make each one of them want this to be the best performance that they could possibly give.'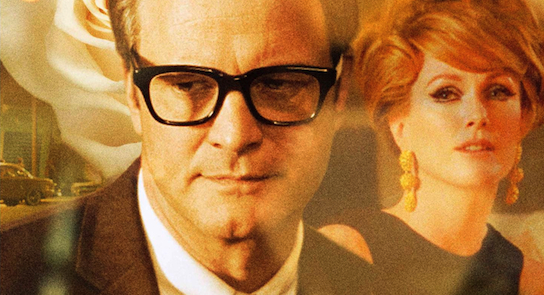 Breakfast at Tiffany's, from 1961, need we say more? There are so many fashion favourites in this movie: from the famous sunglasses, the little black dress, the Burberry trench, this gorgeous orange coat (pictured below since we've entered the cooler season and all), the smoking shirt et cetera. 'You could always tell what kind of a person a man thinks you are by the earrings he gives you. I must say, the mind reels.' and 'Quel rat!' must be our favourite quotes? Do you have one?
Melancholia, the extremely beautiful end of the world story by Lars Von Trier, starring Kristen Dunst, Charlotte Gainsbourg and Kiefer Sutherland. Even though this is not what you'd call a feel-good movie, we have to agree that it's still however one of the most beautiful ever made. Do you agree?
To Be Continued
Sources: eweaver, fashionablethings, indercoroustaste, nytimes, discothequeconfusion, themodernette, gardenerseden, senseofcinema